Rookie's Perspective on Training for the STP: Week 12: 99 Miles, 2880' Elevation
"How far did you ride today?" my friend asked.
"A hundred miles, but it was flat," I said, rounding up slightly. "It was easy."
She thought I was being self deprecating. "You don't have to say that," she chided me.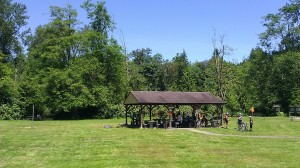 "Don't get me wrong, I can totally brag that I rode my first century," I assured her. "But, really, it was flat. It's easy if it's flat."
We rode from Magnuson to Flaming Geyser State Park in Auburn, a park I've always meant to visit; I had expectations of something Cretacean and volcanic, but apparently it's more like a zippo lighter. The flame even blows out every once in a while and they have to relight it.
In any case, we didn't bike down to the living flame. Too busy eating and peeing and stretching.
The first 10 miles of the ride was an exercise in avoiding the Solstice Parade and the Rock and Roll marathon. We rode down the Burke Gilman trail to the UW and had a rather endless rest at the Montlake bridge as a tug went through. Then up Capitol Hill via Interlaken Boulevard, our only real climb all ride.
Weird, that hill used to be huge.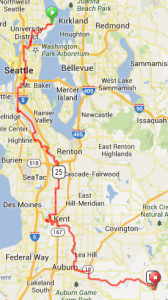 Then south past the old Amazon building on Beacon Hill ("I've spend some stressful hours in there," I remarked to a rider friend as we rode by) and then a spaghetti of hidden and secret trails and roads down past SoDo.
On a forgotten road down the hill below the Amazon building, sunlight and shadow flickering on my sunglasses, I never saw a bump in the road. My bike flew in the air, I flew off my saddle, and for an incredulous moment I was airborne.
"Bump," I called back weakly as I reconnected with the pavement, somehow still on two wheels. "Got it," said Joe, right behind me. He didn't have time to avoid the bump but at least he was prepared after watching my acrobatics.
After such a rough ride last week, I drank water aggressively during the entire 100 miles. I tried setting an alarm so I'd know to finish a bottle ever hour, but it was too annoying listening to my 7-year-old sing-songing "You're a butt" as my alarm sound and not being able to turn it off until the next stop light. In any case, I lost count at about bottle number seven and was heartily sick of Nuun lemon lime by the end of the ride, so I think I hydrated properly.
"How fast are we going?" I asked someone with a bike computer as we were cruising down the Kent valley (I think).
"17.7," he replied. Amazing how easy it is when it's flat. With a tail wind.
The day kind of spun out, the miles and hours blurring together. My back has been alarmingly tweaky but it seems to like biking on flats, and felt better and better the longer I rode (or maybe it was the Ibuprofen). My feet are troubling me the most: searing hot and pins and needles and crampy. I might need to figure out my feet.
"Have you noticed changes in your body since we started CTS?" I asked a riding friend who probably wouldn't appreciate being identified here.
"Oh yes!" he exclaimed. "But my pants are fitting weird: they're now big in the waist, but tighter in the butt and thighs."
"Just what I wanted," I agreed. "More butt and bigger thighs." After the STP I'll go back to my intentional gluten-free diet, but for now I'm just too hungry (she writes, as she takes another bite of pizza).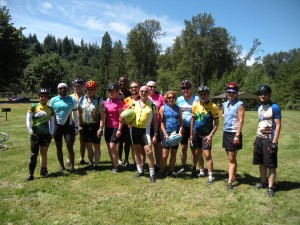 "Mama, why do I have to go to math camp?" my 7-year-old asked me this morning.
"I think you have more fun when you feel prepared and confident," I told her. "I want you to have fun when you start second grade in your new school."
"Kind of like your big ride, right?" she said. I looked at her, astounded at the connection she had made.
"Yes, exactly like my big ride," I replied.
"When is the big day again?" my 9-year-old asked. "You've been training for like six months."
Well, three months actually. And now we just have a couple of weeks of tapering left to do. This crazy crescendo of mileage is done. We did it. A mere 60 miles on Sunday and one final ride around the lake the following week.
Friends ask, "So what's next after the STP?"
I don't know: maybe ride CTS in the blue group (16-18 miles an hour) next year? Maybe ride STP in one day? I would like to crush the men who left me behind when I rode too far too fast way back in February.
In the meantime, I'll sign up for any ride our ride leader David posts and hopefully much of our Green 4 crew will show up. And, as usual, we'll good-naturedly follow that yellow jersey and those ridiculous red legs up and over the hills and rolling miles, just like we have for the last three months.
Kathryn Saxer is currently enrolled in the Cascade Training Series, a 13-week training series designed to prepare Cascade members physically and mentally for  the Group Health STP or RSVP. She's a personal and professional coach in Seattle. When not learning how to bike long distances, she likes to run in the mountains, share adventures with her 7- and 9-year-old children, and cook terrible dinners for her beloved and long-suffering partner. She'll be reporting on her CTS journey weekly.