Rookie's Perspective on Training for the STP: Week 5: 67 Miles, 1849' Elevation
The day after riding 67 miles, I found myself considering the Flying Wheels' 100-mile loop.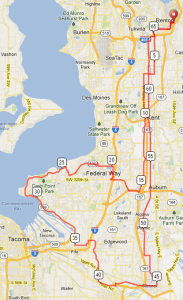 This is one day after being so tired I couldn't fall asleep because my legs hurt too much; one day after being so tired that I tried to pour myself a glass of wine with the bottle corked (to my friends' great amusement); one day after I was filled with joyous relief to get off my bicycle at the end of the ride.
And now I'm thinking about an extracurricular 100 miles? I guess the bug has bitten.
Or maybe it was the sunshine. Much more fun than riding in cold rain.
When people ask me about the 67-mile route, I've been saying that we biked to Tacoma. But I have no idea how we got there.  "I just follow the butt in front of me," I say.
We rolled out of Renton promptly at 9 (can I say again how much I appreciate CTS' punctuality) in warm morning sunshine — a bit of a different climate from last week.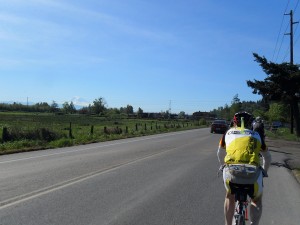 The warm weather posed a conundrum for me. I'd finally figured out cold weather gear: I was comfortable on my saddle in running tights, a running skort, and rain paints. But I didn't know what to do in hot sunshine.
I did some experimenting midweek: I rode the Cedar River trail in my partner's padded biking shorts and a skort, and was desperate to take off the bike shorts by the time I got to the turnaround point at the end of the trail. Padded bike shorts are like wearing a giant maxi pad and I don't get how you all can stand them. This clothing change was particularly exciting since I had read somewhere not to wear underwear on long rides and I had to take the skort off to get off the bike shorts. My shorts got caught in my bike shoes and I frantically danced around bare-assed, praying no one would come around the corner.
So what to wear for 67 miles in 80-degree weather? I settled on my running skort, which was fine except that by mile 50 the shorts part kept riding up. I think this is all a good excuse to buy a cute (unpadded!) biking skort. By the end of the ride, our ride leader was talking about butt cream which is an image I don't need in my head.
But I digress.
Moments after leaving the Renton City Hall parking lot we were on roads I'd never seen before with occasional views of Mount Rainier. There were a couple of jolly personalities on the ride and they, combined with the sunshine, set a happy tone. These training rides have tended to be very heads-down serious and it was a pleasure – energizing – to hear laughter and goofiness around me.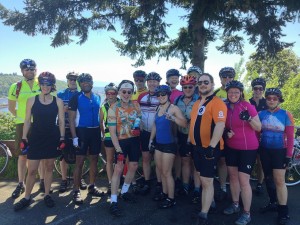 Laughter and goofiness at the top of the hill
We had a quick rest stop at mile 20 and a luxurious 20-minute stop at around mile 40. I had been looking forward to that 20-minute stop all week. In fact, the ride had been on my mind all week, a huge task looming at the edge of my consciousness. I can't believe how blithely I signed up for all this; I mean, how hard could a bike ride be?
Ha!
There were two hills to speak of on the ride.  One was a long, hot climb up Peasley Canyon, which I'd never heard of, and another up Dash Point, which maybe I had. Later on the ride, I could see a big, steep hill ahead of us and my heart sank. And then, like a Christmas gift, the group turned to the right and we swept past the hill. "That was going to be a little less fun for a minute there," I joked with the rider behind me.
The view from Dash Point over Tacoma to Mount Rainier was dazzling, and then we were headed back towards Renton. Eventually we ended up on the Interurban Trail, although I am entirely unclear on how we got there. And I had my first experience with a serious headwind.
I kept thinking about penguins. If I stayed close to the group, I could pedal along easily in the breeze, like a penguin sheltered from the Antarctic blizzards by the big huddle of other penguins. But if I strayed behind I was lost, like the tragic baby penguin left behind in the storm in the Planet Earth documentaries. Slowing to get over railroad tracks, I had to push as hard as I could to catch up, genuinely afraid that I wasn't strong enough and that I would get left behind in the Antarctic wind. I spent most of that long, monotonous trail tucked in behind a burly 28-year-old (thanks, Nathan!) and hung on for dear life.
And now that I've done 67 miles, I'm cockily thinking about 100. I mean, how hard could it be?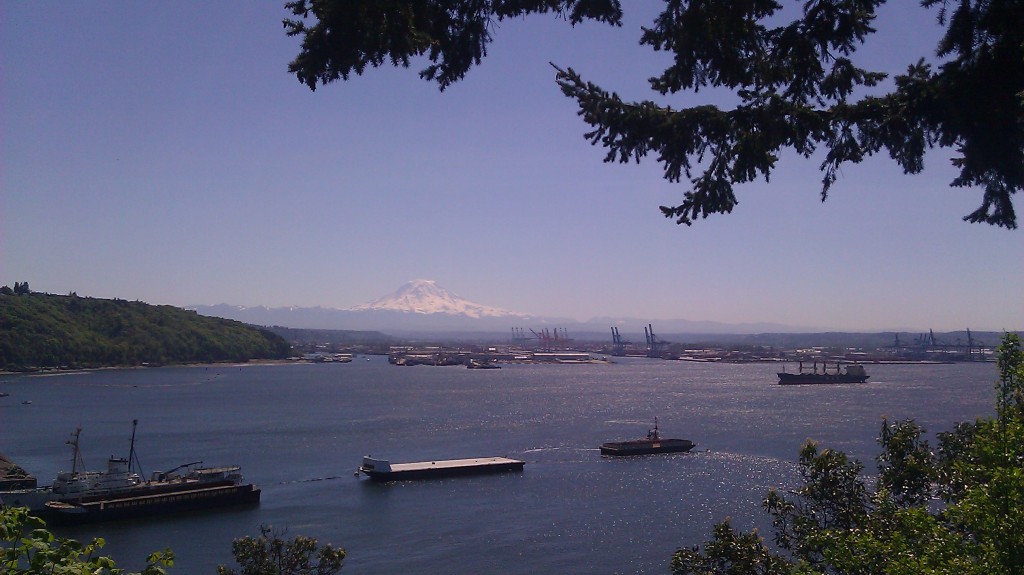 Kathryn Saxer is currently enrolled in the Cascade Training Series, a 13-week training series designed to prepare Cascade members physically and mentally for  the Group Health STP or RSVP. She's a personal and professional coach in Seattle. When not learning how to bike long distances, she likes to run in the mountains, share adventures with her 7- and 9-year-old children, and cook terrible dinners for her beloved and long-suffering partner. She'll be reporting on her CTS journey weekly.