Rookie's Perspective on Training for the STP: Week #4: 55 Miles, 2387' Elevation
55 miles. That's the kind of distance where people start to look impressed when you say, "Oh yeah, I rode 55 miles today."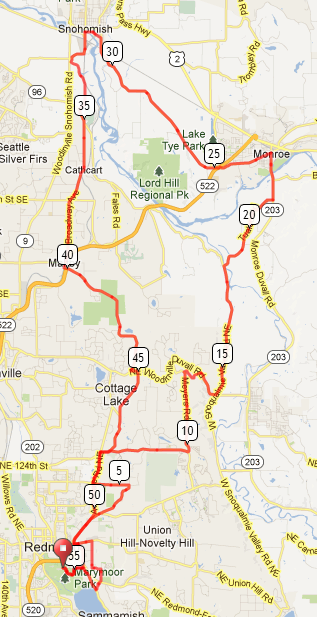 I need to start training.
I moved from Yellow (12-14 miles an hour) to Green (14-16 miles an hour) for Saturday's ride from Marymoor out to Snohomish. I was nervous beforehand, but in an excited kind of way, not a dreading kind of way. I was curious about what 55 miles would feel like, but mostly I was looking forward to the route eastwards, to biking somewhere I'd never been before, to getting somewhere.
My subconscious had something to say about the ride: I had a dream the night before that my seven-year-old daughter was joining me on her kid-sized, gearless bike. In the dream I felt a little nervous about how she would manage 55 miles.
But the faster pace was fine and if I hadn't started in yellow there would be no question about whether I could do it. The only difference between yellow and green that I could notice without a bike computer was that the pace didn't sag on the hills.
We set out north from Marymoor, rode up and over into the Snohomish River valley, along the valley for a ways, and then up and out of the valley. Almost immediately, we were in old Redmond, riding past old farms and along rolling country roads, the busyness and congestion of the suburbs behind us. We passed a farm where a Bernese Mountain Dog (my first love) watched us with affable alertness and past an oddly jumping cow. I had a feeling I could ride a long, long way on country roads.
Well, except for the hills.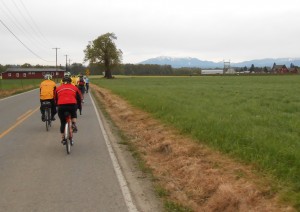 I usually have a good relationship with hills. I like to think of them as flats on an incline. I like the workout, I like getting to the top, I like how there is an end, usually in sight, if you keep pushing with patience. The rides I'm proudest of to date (the Chilly Hilly, the bonus CHEW ride) were hilly rides.
But there's a chance I might have been a bit, well, overly confident in my climbing abilities. I didn't get left behind, I didn't – heaven forbid! – hold up the group but I got pretty tired climbing in and out of that river valley. I ate my emergency Mocha Double Espresso Cliff Shot but it didn't help, or if it did, I was too tired to tell.
It started to pour around mile 30 and we rode mile after mile in rain. I could feel puddles squishing in my shoes. I hadn't learned about the visor trick yet (thank you, Lamar!) and the rain dripped from my helmet in salty streams into my mouth. I fantasized about curling up in front of our gas fireplace when I got home.
We don't have a gas fireplace.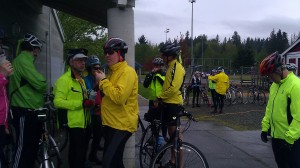 On a very busy, fast, four-lane road back into Redmond, the ride leader signaled for us to take over the right lane and ride abreast with a buddy, even though there was a bike lane. Cars could pass us on the left, so we weren't holding up traffic. I rode on the inside next to a nice, chatty woman and have never felt safer riding in traffic. I think the drivers out there felt sorry for the pathetic group of drowned rats riding down the highway on bicycles.
And then there was one last hill – not even a big hill – through the last light industrial section before getting back to Marymoor. And I ran out of gas. Rider after rider passed me as I slowly and humbly pulled my way up that damn hill.
When I finally got home, sat in a hot shower, and climbed into bed under the heating blanket on HIGH, I was so tired I felt like crying. So, yeah, I think I need to start taking this mid-week training recommendation more seriously. Next week is 65 miles.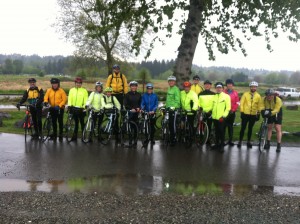 Later that evening as I was putting the chickens to bed, after hosting a dinner party (which is something I'm never doing after a long ride again), I was grateful I didn't have to get on Blue the next day.
I need to start training.
Kathryn Saxer is currently enrolled in the Cascade Training Series, a 13-week training series designed to prepare Cascade members physically and mentally for  the Group Health STP or RSVP. She's a personal and professional coach in Seattle. When not learning how to bike long distances, she likes to run in the mountains, share adventures with her 7- and 9-year-old children, and cook terrible dinners for her beloved and long-suffering partner. She'll be reporting on her CTS journey weekly.