SNAP: Seattle Neighborhoods Actively Prepare Presentation
Event date:
Thursday, March 8, 2018 - 7:00pm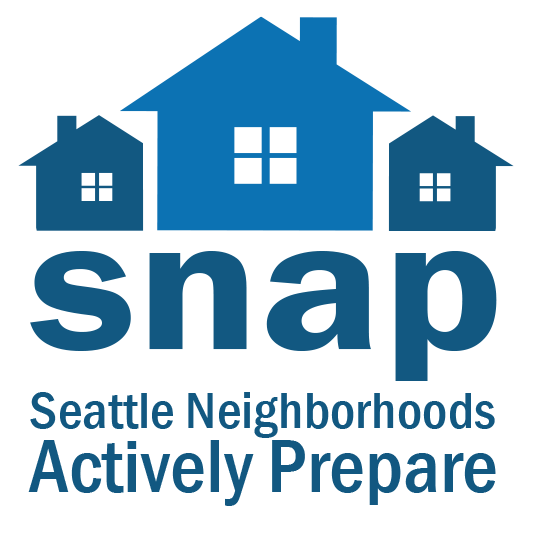 Are you looking to learn the basics of disaster preparedness and organization?
Join us for a City of Seattle SNAP presentation, taught by Ann Forrest, on Thursday March 8th from 7 to 8pm.
From the City of Seattle SNAP webpage:
"The City of Seattle has created the Seattle Neighborhoods Actively Prepare (SNAP) program to help your neighborhood get organized. We encourage people to not only prepare themselves and their families, but to talk to their neighbors about how they will work together to make sure everyone in the neighborhood is safe and cared for.
There is an online toolkit that provides practical step-by-step instructions on organizing as a neighborhood. The Seattle Office of Emergency Management can facilitate a discussion to help your neighborhood get organized. SNAP is a simple and flexible process that can be customized to meet the needs of your neighborhood.
What is SNAP?
Simply put, SNAP is a group of neighbors who have agreed to work together following a big disaster. Some neighborhoods like to have a very formal plan, with assigned roles and tasks, while other are more spontaneous, leaving specific assignments to the day of the disaster. There is no right or wrong way to organize. The way you do it really depends on the neighborhood "personality". 
Regardless of how you organize there are some easy steps you can take to get everyone on the block thinking about disaster preparedness."
Thursday, March 8th, from 7 – 8 p.m.